Black&Sexy TV invites you to take a moment to get up close and personal with some of your favorite artists on BSTV. Get a view of what sparks their creativity and helps them create the soundtrack for BSTV.
James Gardin has used his multifaceted skill set of empowering rhymes,fun melodies, energetic stage presence, and deft fashion sense to become the most successful emcee in his hometown of Lansing, Mich. James aims to use his art and message to inspire all those around him to live their life fully, and encounter their purpose daily.
Watch the full interview exclusively at www.blackandsexy.tv
What/who are you currently listening to?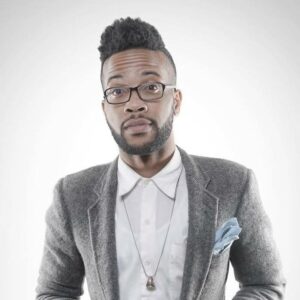 I'm listening to a lot of Anderson Paak right now ! His whole approach to songwriting and use of harmonies has me obsessed. I'm already campaigning his album for album of the year.
What advice would you give other aspiring musicians/artists?
Advice I would give to aspiring musicians is stay consistent in creating and releasing , and learn everything you can in the areas you have know help in . There are so many things on the business and technical side that if you can't find someone for you will need to wear that hat.
If you could do a duet/perform with anyone who would it be?
If I could do a duet with anyone it would be Future Vandross . Future is the B.B. King our this generation. He is the ambassador of autotune blues.
Michael or Prince?
It's MJ all the way!!
How long have you been making music and what is your process?
I've been do music for close to 13 years, throughout the years my process has changed. My process recently has been I'll create or find a track, record a mumble track, then write the words later. I love this process because I can create the rhythm and bounce of the song first.
You're on a deserted island for the rest of your life, what three things would you bring?
If I was on a deserted island I would bring my studio , my bible , and some painting supplies.
Favorite artist/song?
Donny Hathaway – A Song For You
Watch the full interview exclusively at www.blackandsexy.tv
Black&Sexy TV is an entertainment and lifestyle network focused on a young, progressive, Black audience who seek a truer reflection of their modern culture.